Ausländer's Custom Equipment Mod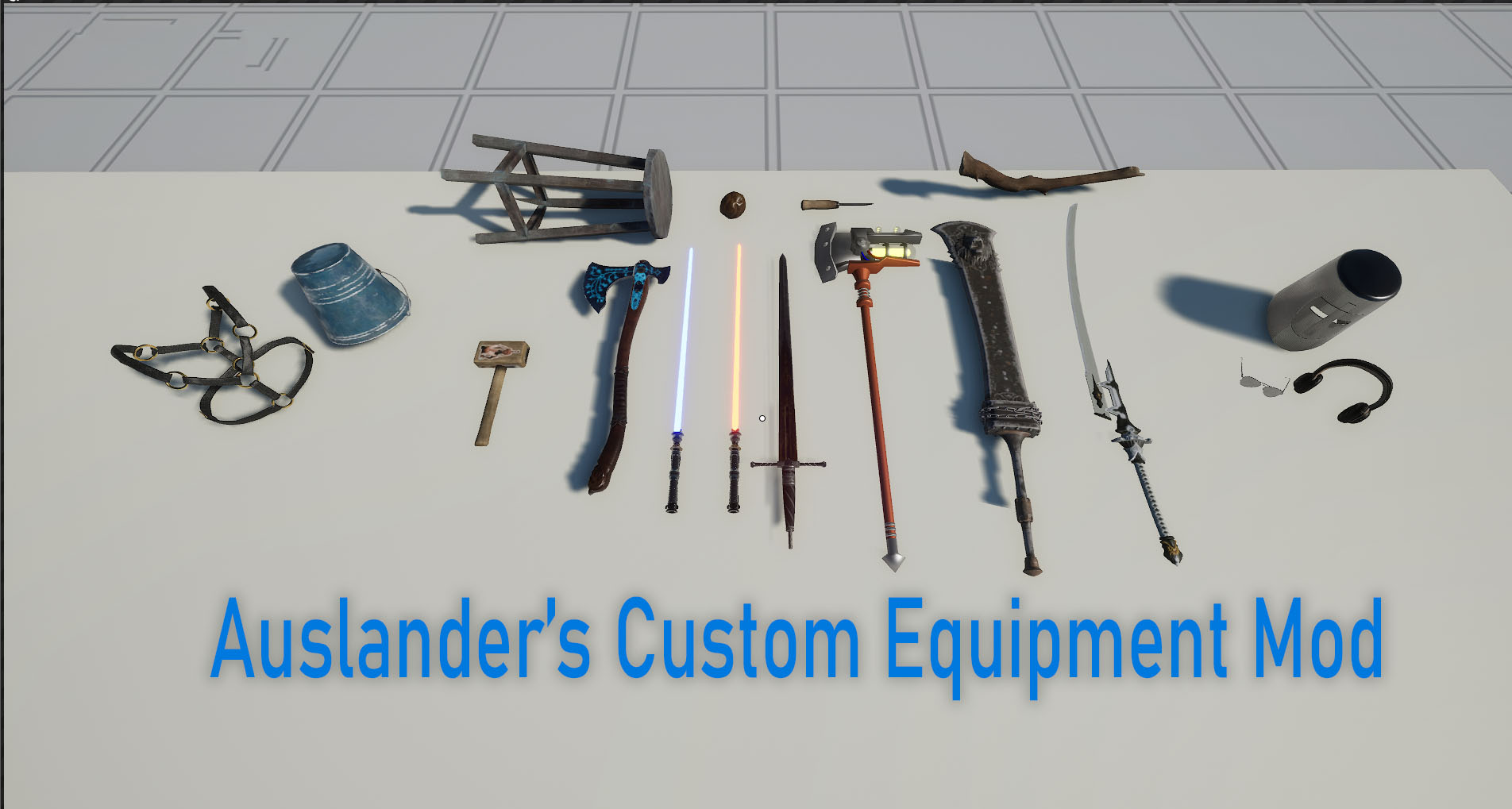 DESCRIPTION 📜
This mod adds 35 new weapons, including:
1. Beastlord (From Nier:Automata)
2. Gachi Mallet / Gachi MalletOP (Ragdoll on hit)
3. KekSword (OP)
4. LeviathanAxe
5. Kyle Katar's Lightsaber (with two colors)
6. Shrek's Club (OP Drags)
7. Stool
8. Super Knife (Instant strikes)
9. Super Turd
10. Virtuous Treaty / Virtuous Treaty (OP Drags) (From Nier:Automata)
11. Cyber Axe
NEW IN 1.2.0:
12. Zirael
13. Aerondit
14. Diamond Sword
15. DiamondPickAxe
16.1DiamondAxe
17. ButtPlug
18. Spinner
19. DragonSlayer
20. Electric Guitar GibsonV
21. Electric Guitar Fender
22. Electric Guitar IbanezBass
23. RiversOfBlood
24. GodSlayersSword
25. Cinquedea
26. Hook
27. Dildo
28. IronPipe
29. FangOfTheTwinds
30. Fork
31. RustyAnchor
32. Cragblade
33. Banana
And few new armour:
1. Nice Helmet
2. Bucket (3 tier helmet)
3. Leahter Belts (From Gachimuchi) (1 tier chest)
4. Heaphones (Helmet)
5. Aviators (Helmet)
6. Turd Head
7. Few Custom T-Shirts
INSTALLATION 🔧
This mod isn't dependent on map, so it can be played on any map.
To play it on your server, you need to add following lines in Game.ini:
---
under [/Script/Mordhau.MordhauGameSession]
Mods=2027080
---
under [/Script/Mordhau.MordhauGameMode]
SpawnServerActorsOnMapLoad=/AuslanderCustomEquipment/AusCustomEquipmentHandler.AusCustomEquipmentHandler_C
---
This is a minimal setup.
This mod also can be configured. If you'd like to exclude some weapons, you can add following line in Game.ini:
[AusEquipment_WeaponsToExclude]

WeaponToExclude=WeaponName
Here is the list of some weapons' name:
WeaponToExclude=Beastlord
WeaponToExclude=CyberAxe
WeaponToExclude=GachiMalletOP
WeaponToExclude=KekSword
WeaponToExclude=LeviathanAxe
WeaponToExclude=LighSaberKyle
WeaponToExclude=ShreksClub
WeaponToExclude=Stool
WeaponToExclude=SuperKnife
WeaponToExclude=SuperTurd
WeaponToExclude=VirtuousTreaty
WeaponToExclude=VirtuousTreatyOP
WeaponToExclude=GachiMallet
Other names in the weapons list above
Example:

Special thanks to:
SoomRK, helped with server config.
P.S.
If you have any question, feel free to ask me in Discord
Ausländer#2876