Skirmish with team captains picked at random every round.
Non-captains are allowed to respawn.
Consider joining the captains discord if you want to learn about upcoming updates and help shape development:
Server admins - add Skirmish Captains to your map rotation with the format:
skm_mapname_captains (e.g. skm_camp_captains)
Supports all official Skirmish maps.
+Modded Map Support:
Supports the following modded maps - Server owners must subscribe their servers to these individually before they will work in-game.
Summary of the mode:
Random captain picked at start of each round (manual Opt-in possible)
Win rounds by defeating enemy captains
Health regeneration is limited for captains
Non-captains can respawn (10s respawn)
All respawns get 1.5s spawn protection
Easy weapon/equipment banning built-in (see below)
Captains have triple health, but move 15% slower
Compatible with BOTs
Easy weapon/equipment banning
Thanks to Cswic it is possible to ban weapons and equipment using your server's game.ini.
Create a [SkirmCapBanned] within game.ini and list items below with =0 following them.
See this example which is recommended for the mode: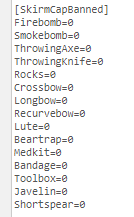 For a list of all equipment names, visit Cswic's Loadout Weapon Removal mod and see his large image list.